March/April 2017
The 120th session of the Technical Commission of MOROP took place March 31 to April 1, 2017 at Ostrava (CZ).
The meeting was organised by the Czech assosication SMCR/KZeM CR under supervision on Jiri Pollak. We thank you all very much for the excellent excecution.
On Friday morning we first visited the SKoda VOGONKA in Ostrava because the company does not host visitor groups during the weekend. We could see the highly professional contructing of double level rail coaches for use up to 189 km/hr. We were able to see them in all stages of construction from the raw material to the nearly finished coaches.
During the session of the technical commission we all remebered the deceased honary member of the MOROP Desider Selecky of Slovakia.
List of NEM's under revision:
NEM 004 MOROP - Label - annex 1
NEM 201 Catenary level
NEM 611 Electric feed of fixed installations
NEM 650 Electric interface for modell vehicles
NEM 651 Electric interface small (S)
NEM 652 Electric Interface medium (M)
NEM 654 Electric interface large (L)
NEM 641 Digital train promotion - digital characteristiques
NEM 301 Limitations of vehicles
The next session will be during the Congres in Groningen in September 2017.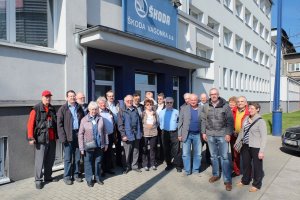 Group visiting Skoda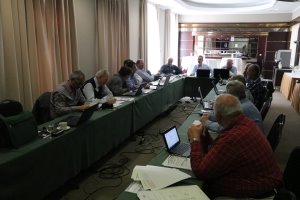 Session at the Hotel Imperial